Foglight® Evolve takes a holistic and proactive approach to hybrid cloud management so you can simplify the complexity of your data center, reduce infrastructure costs, maximize system performance, and predict future costs with more accuracy.
With Foglight Evolve, you can tackle IT environment complexity, regardless of the complexity of an ever-increasing mix of clouds, hypervisors, and applications. It also helps you keep resource requirements in check, including data storage or infrastructure costs. Furthermore, its optimizing abilities keep users and business stakeholders happy by helping you meet maximum system uptime and performance.
Foglight Evolve is made up of three products that can work together or individually depending on your specific needs: Foglight® Evolve Monitoring, Foglight® Evolve Operate and Foglight® Evolve Cloud. Depending on which products you use, you can eliminate complexity from your data center, decrease infrastructure costs, boost system performance and/or forecast future costs more accurately.

Make cloud migration and management simple and predictable. Migrate to the cloud with confidence, knowing how much it's going to cost and what performance you'll get now and in the future.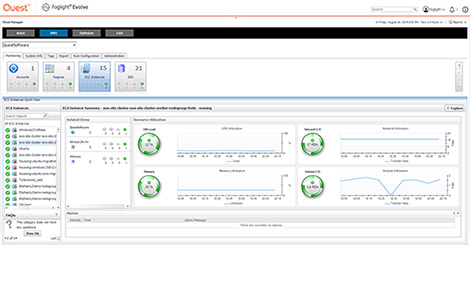 Foglight® Evolve Cloud helps you migrate workloads to the cloud with confidence, with predicted costs, cost-savings and impact to performance. But migration is only the half of it. After migration, you'll be able to fully manage all your workloads in the cloud easily. With Foglight Evolve Cloud, you'll be able to achieve a cloud-first or cloud-only mandate without struggling to manage everything you've already migrated, and without getting bogged down in research due to having too many resources to determine which workloads and applications to migrate.

Take control of your environment. Spend more time on innovation and less time on trying to keep your IT environment alive. Know that your infrastructure performance and uptime are being constantly monitored and optimized.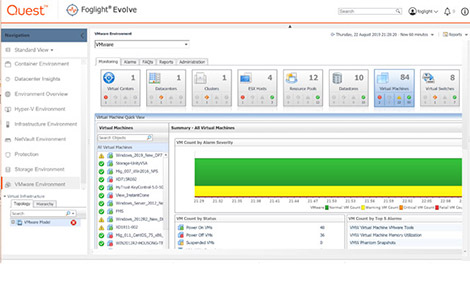 Simplify monitoring of IT systems performance, availability and maintenance. Foglight® Evolve Monitor helps you spend less time using disparate tools to monitor physical and virtual servers, applications and data storage, and spend more time focusing higher-value, innovation-forward projects. Foglight Evolve Monitor shows you all your IT resources with a single monitoring tool and identifies potential faults before they become a major headache and become even more difficult to diagnose and resolve. And you'll rest easy knowing that your IT infrastructure is continuously monitoring uptime performance.
Unlock hidden resources. Reallocate compute power and resources you already have to improve performance, save money and avoid downtime. Your budget will go further and you'll have greater flexibility in IT decision making now and in the future.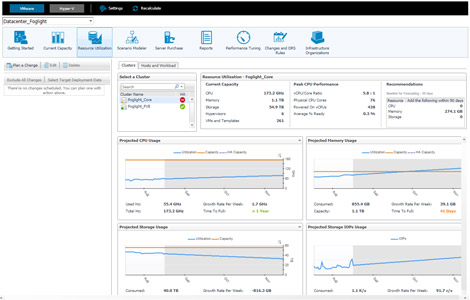 Automatically identify and reclaim under-used resources, know the impact of infrastructure changes before you make them, and accurately determine the IT resources you need now and in the future. Foglight® Evolve Operate allows you to unlock and reallocate existing computing power and resources to improve performance and avoid future costs – and make your budget go further because you'll only be paying for what you need. The result? You'll have greater flexibility in the decisions you make regarding the hardware and software you need now and in the future, without the overestimating, over buying, or over allocating.